In June 2020, as many colonialist, imperialist, and racist monuments were being defaced, removed, and torn down, I had a desire to create a space to document these actions. I believed bringing this information together would rebel against the mainstream media's portrayal of these actions as riots, divorced from historical context. Monuments being toppled are not isolated incidents of violence, but rather an illustration of the power of the revolutionary collective movement. The initial spark of an idea quickly grew into the Toppled Monuments Archive––a radical international collective that has come together to create the most comprehensive, accessible, open-source online platform of recorded toppled, defaced, contested, and removed monuments, encompassing incidents from the present day and all of the way back to the third millennium BCE. Our mission is to facilitate direct action through education and to utilize geographic data visualization to illustrate that the fight for liberation is global.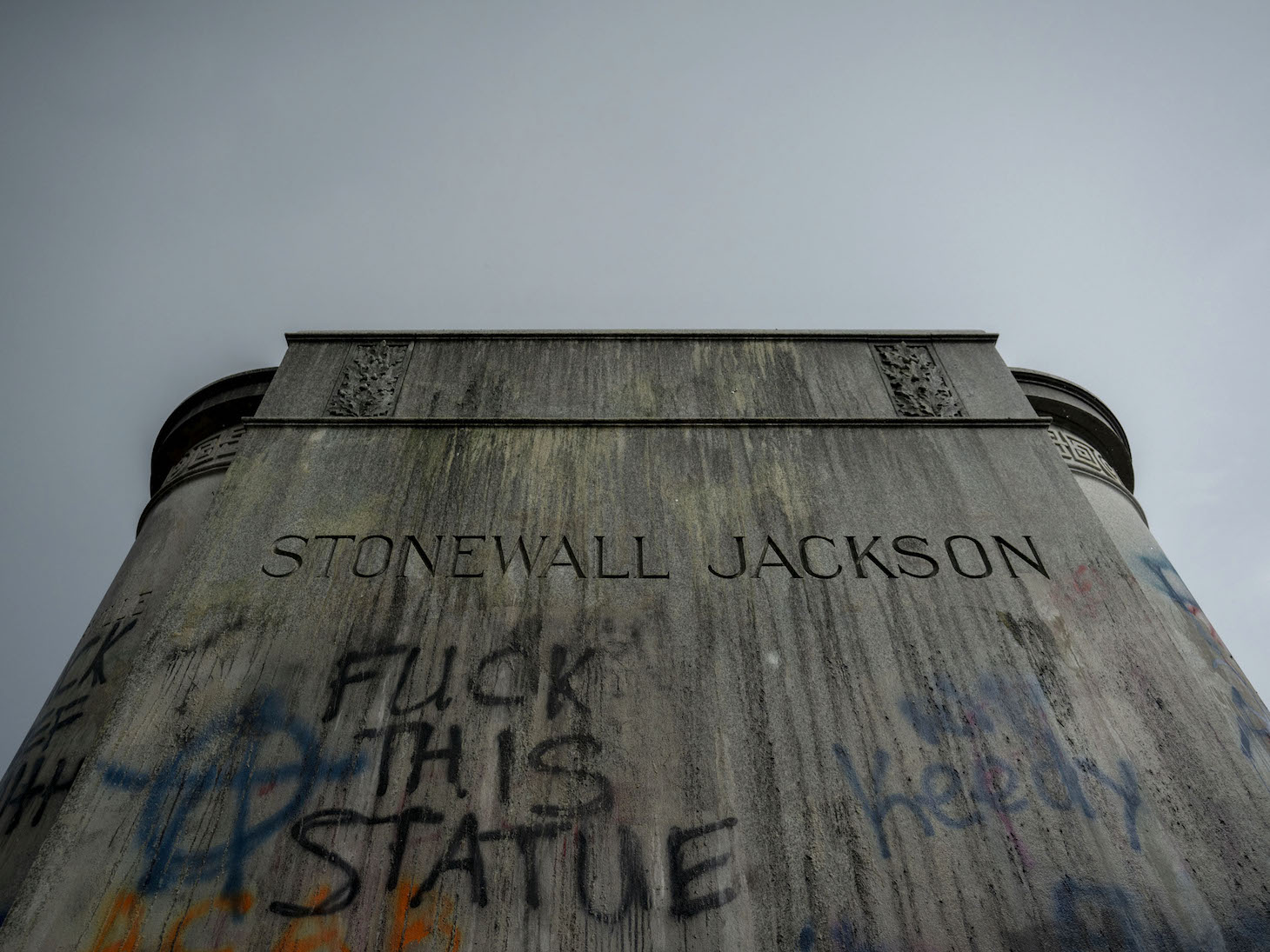 Anarcho-politics inform how we create this vast online network––a living and breathing map in progress. The process of building this archive and the formation of our collective mirror one another, we work within a non-hierarchical structure, centering locality and care. In addition to archiving information and ephemera, we connect people who want to work together, we share research, highlight ongoing community activism and efforts to reform legislation, and we collaborate with other collectives. The digital space we are forming is alive and always changing, just like our collective. At the root is the conviction that how monuments interact with the world is more important than their long-lasting physicality as objects; that the movements around and towards these objects––toppling and defacement––tell a more complete story than the monument does. We need to let these objects die and invest our time, energy, and resources into people.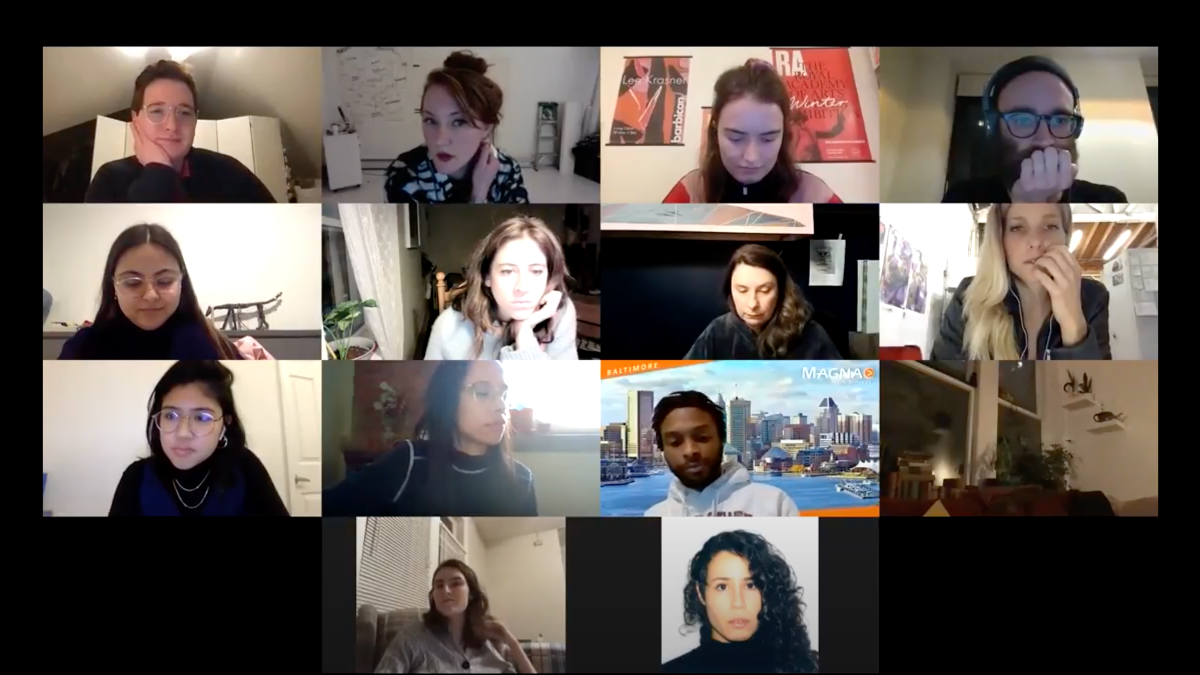 Our archival practices push back against traditional preservation conventions to center the event, the people's history, and revolutionary acts. We believe that the monument is a stage for action, and we archive within this conceptual framework. Our efforts seek to reroute the impulse to preserve physical monument objects altogether. We do not need to physically preserve these objects to preserve history. Toppling these monuments is history happening in real time and these actions are being widely documented.
In response to the changing times, our archives and methods of documentation need to adapt and get more creative––which, in the case of the ​Toppled Monuments Archive​, involves going beyond the catharsis of the images of the monuments coming down and to tracking where the monuments end up after their initial, and often short-lived, demise. Many of these objects are merely relocated or put into storage to perhaps one day re-emerge.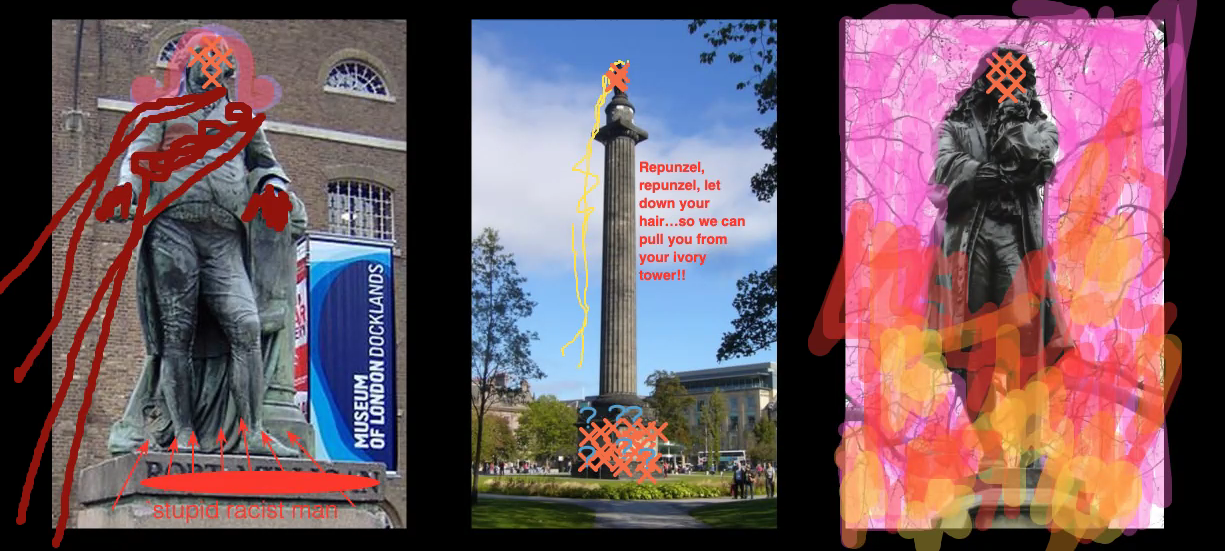 Toppling is not a destructive act; the preservation and relocation of these monuments is destructive. Toppled racist monuments should not be retrieved from the bottom of rivers. These direct actions should not be undone by cities, auctions, museums, historians, preservationists, or conservators. Efforts to preserve these monuments and prevent their toppling signal a desire to allow them to continue to exert their power as objects, to uphold the ideas they stand for, and, perhaps most significantly, to communicate that property is more important than people.
The direct actions taking place should be valued and documented, with anti-facial recognition tools and with respect to the anonymity of the people taking action in countries with hostile political climates. Blurring the faces of the protestors is at once a protective measure and a compelling aesthetic process of abstraction that TMA members work with as we archive.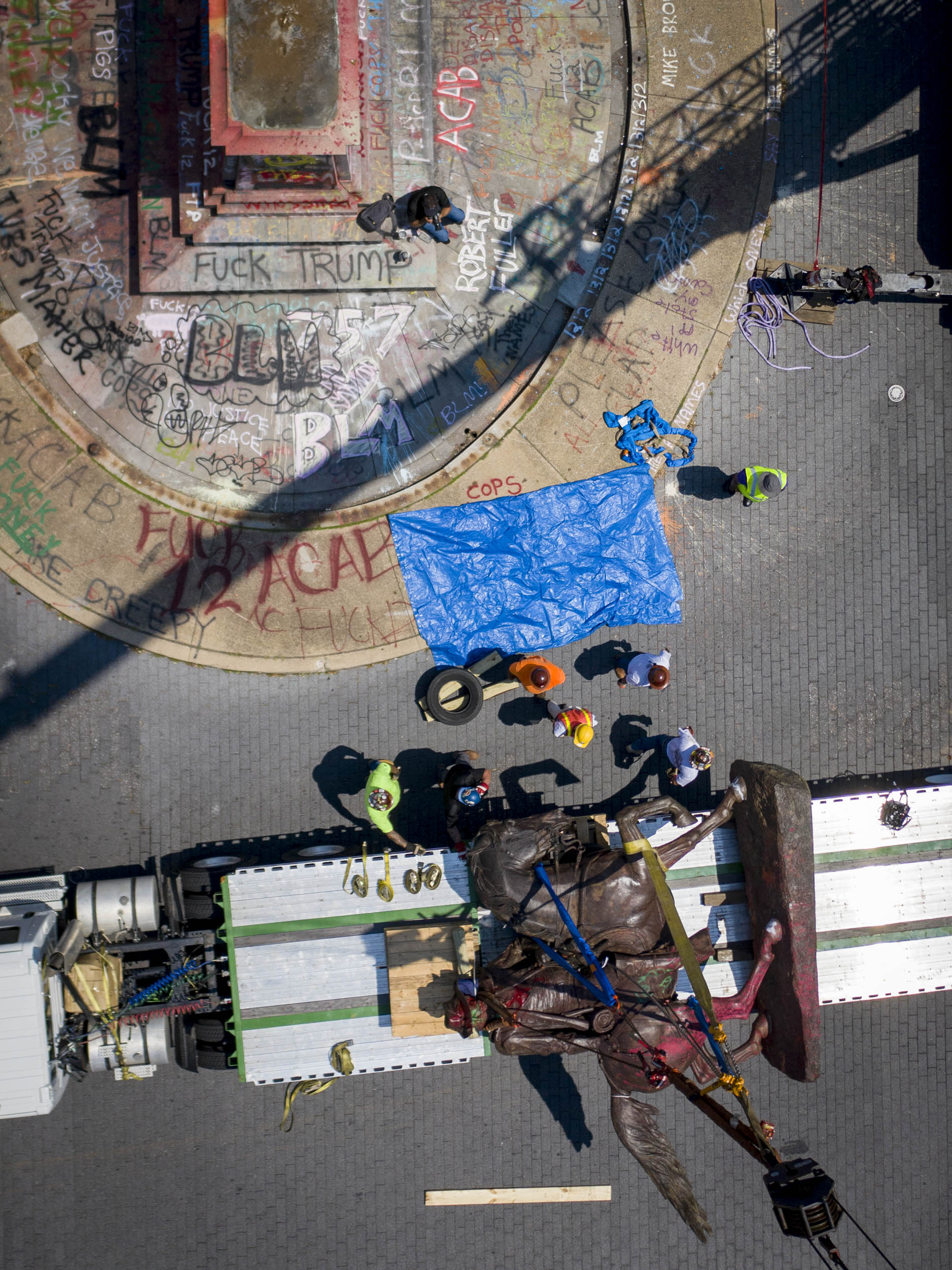 Hundreds of activists have toppled or removed many monuments––we want to archive these expansive stories in collaborative ways with the communities involved. Toppled Monuments Archive Collective members are currently working in Brazil, Argentina, Chile, the United States, the United Kingdom, Egypt and the list keeps growing. We welcome all to participate in this growing network. To see a list of members and contributors to the Toppled Monuments Archive Collective, click here.
---
This essay in the "Changing Monument Landscape" series was commissioned as part of the launch for the National Monument Audit, produced by Monument Lab in partnership with The Andrew W. Mellon Foundation. For more on the Audit, visit monumentab.com/audit.